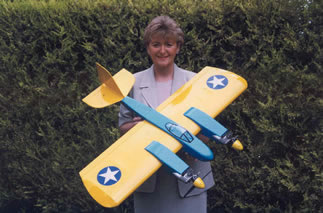 The BillKits Mini-Twin is a pint sized packet of fun for two .10 -.25 cubic inche engines and a 4 function R/C. The model is based on the highly successful Fun Fly 15 and it's flight characteristics retain the pedigree performance of its single engine relative.
The aircraft has a wing span of 36″ and is 26″ long. The all up weight can be anywhere between 2.5 and 3.5lbs depending on the engines and R/C equipment used. However the model was designed to take standard sized R/C gear so don't worry that "mini gear" is required.
This is one extremely aerobatic model yet it is not the slightest bit twitchy as is often the case with smaller models. It is both solid and positive in flight giving the pilot confidence thta the aircraft is doing exactly what it is being told. As for speed she will fly at virtually walking pace at tickover, while full chat on two .25's should increase the pulse rate of even the most experienced pilots.
The single engine performance is both predictable and manageable with the large rudder enabling experience to be gained for future more exotic projects. (Not saying that this little bird is not fairly exotic anyway) !!
As with all BillKits this little belter comes complete with fully pre-cut ply and balsa parts, full size plan and instructions and full accessories including u/c, wheels, spinners, tanks, mounts etc etc.