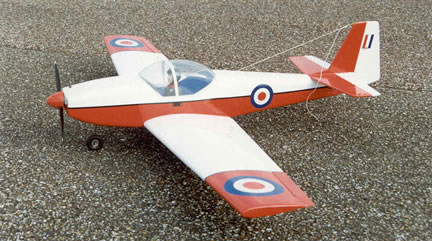 BillKits first venture into the world of scale models. The Slingsby T67 Firefly basic military training aircraft.
Our model is 60 inch wing span semi-scale aircraft and is suitable for .35 to .45 size two stroke engines or .40 to .50 four strokes.
The engine is an attractive tricycle undercarriage low winger which makes an ideal second model, although this said, the scale lines and superb handling make it a great model for any pilot to enjoy. The prototype model fitted with an O.S. .40 weighed 4.5lbs which gave the model a nice low wing loading of under 22oz per square foot.
The kit is of standard "modern" construction with sheet tail surfaces and is fully pre-cut from the best balsa and ply. It comes complete with full size plans, instructions, top quality veneered foam wings and vacuum formed canopy.
Handling of the model can only be described as positive and precise throughout the speed range, it is a very pleasant aircraft to fly. Just like the full size the model is capable of most aerobatic manoeuvres and a low wing loading enables them to be carried out at realistic scale speeds.
The full size aircraft are in use all over the world and it is also the R.A.F.'s primary training aircraft so there are lots of different colour schemes from which to choose.
All the neccessary hardware is also included which means tank, mount, wheels, pilot, spinner. Yes Everything. You provide covering material, glue, engine, and radio.