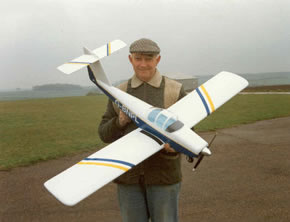 BillKits are pleased to announce the latest edition to their exciting range of model aircraft kits.
The Pipe PA38 Tomahawk is the "new boy" and it nicely compliments the other four semi-scale designs previously available. The distinctly model is a close copy of the full size two seat training aircraft and the high "T" tail sets the model apart from hundreds of other low wing "trikes", and should provide that little bit of difference that modellers seek. The model is 60″ wide and 40″ long, and is suitable for 2 stroke engines of .35 – .45 cubic inch and 4 strokes around the .40 mark. The prototype fitted with an O.S. surpass weighed in at 4lbs 6oz which gave it a very respectable wing loading of 20oz per sq. foot.
The kit comprises of top quality obechi vennered foam wings, fully pre-cut balsa and ply parts, full size plan and isntructions along with full accessories wich means canopy, tank, mount, spinner, U/C, wheels etc etc.
The fuselage is a traditional box structure and formers are used to reproduce the rounded contours of the real thing. The tail group consists of 1/4″ sheet balsa tailplane, elevator and rudder while the fin is built up and houses the pushrod which drives the elevator via a bellcrank from the servo.
There are hundreds of Tomahawks in service throughout the U.K. and literally thousands more all over the world so choice of colour scheme should not be a problem. The example in the picture is based at Bill's local flying club (the model is much more aerobatic than the real thing!)