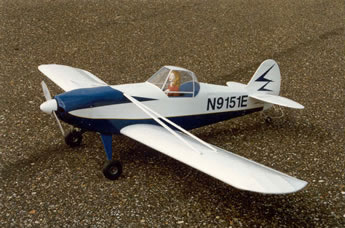 The PA25 was our second venture into the world of sport-scale modelling and it's distinct lines and impressive performance make it a real eye-catcher.
Developed for agricultural use in 1960 using the wings and tail feathers from its famous sister The Piper Cub, the Pawnee set the standard for other "crop dusters" to follow.
Our kit is a 59″ wing span, four function model for engines of .35 to .45 two stroke or .40 to .50 four strokes.
The fuselage is of the usual "box-type" with the upper contours reproduced using formers and stringers.
The tail surfaces are pre-cut from 1/4 sheet balsa, on the subject of wood this is all selected by hand to ensure quality. The wings are available in either foam or traditional "built-up" balsa and both feature the Pawnee's characteristic struts.
Our kit includes a vacuum formed canopy and cowling and all the other accessories to complete the model e.g. wheels, tank, engine mount, pilot, under-carriage, horns, clevices etc etc.
Depending on the engine and radio selected the model comes out at approx 4lbs in weight which means a low wing loading of around 20oz per square foot. With these figures the Pawnee's all round performance is delightful, being fully aerobatic and very forgiving, able to turn on a sixpence and float in on "spray-runs" or landings. We think you will find our model very satisfying both to build and fly. The other pipe classic, the PA25 Pawnee.