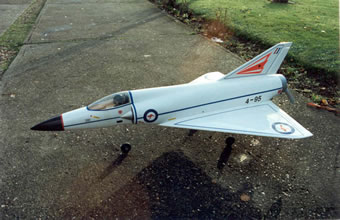 New for 1995 we presented the Dassault Mirage III Delta.
We decided to stay on the "Jet" theme after the excellent response to our 1994 new boy, the F86 Sabre.
The Mirage III is a true delta and must surely rank as one of the sleekest aircraft ever. Our model has a 35″ wingspan and is 49″ long, and can be powered by .36-.61 engines. Our model is a rear engined design which gives us two major advantages, firstly the engine is virtually hidden in the "Tailpipe" and secondly this leaves the sleek nose profiles of the aircraft completely unblemished by the likes of cylinder heads and silencers.
Note: Any engine may be used as a "pusher" when fitted with a reverse pitch propeller, we stock a range of these props' should you have difficulty in obtaining them locally.
The construction is similar to our Sabre model with lite ply fuselage formers planked with 1/8 balsa. The wings are top quality obechi veneered foam. The all up weight of the model Kits, full accessories are included which means absolutely everything (even pilot) other than aircraft so far have been covered in solarfilm without problem. A full size plan and comprehensive instructions complete the package.
The full size aircraft has seen service with many different Air Forces including the French, Australian, Swiss, South African and Israeli to name a few, so there are lots of different colour schemes to choose from. Our model is certainly very different from the usual run of the mill kit, rear engine elevons, sleek delta "Jet" a real head turner. The Mirage III.