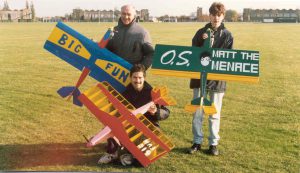 Big brother of the Fun Fly 15. "Big Fun" is a 47″ span, .25-.45 engine, 4 function "High Winger" with all the agility and performance of the very best "Fun Fly" designs coupled with the elegant lines and shape that only a "proper" fuselage can give. (No aluminium pipes here).The airframe is of a traditional balsa construction throughout with a quick build box type FUS, "D" spar wing (fitted by Dowels and bolt), sheet fin, tailplane and simple quick build ailerons, elevator and rudder.
All the balsa as usual is hand picked for its application in the airframe to provide maximum strength with minimum weight. As stated earlier the engine range is extremely varied and this is no idle boast as with a .30 size engine the model weighs in at a mere 2lb 14oz, so i hardly need explain that at this sort of weight and with a wing area of some 700+ Square inches that the performance throughout the speed range is superb, and the vertical performance unlimited. Slow down and the model will hover in the slightest breeze, try reversing into land as a party trick. How many A/C do you know that recover from flat spins (upright or inverted) simply by releasing the sticks?
On top of all this the model is completely viceless and with reduced control throws is as easy to fly as a trainer. (There is a growing list of new pilots to prove this). Each kit comes complete with pre-cut balsa and ply parts, full size plan and comprehensive instructions. All accessories required are provided including torque rods, snakes, u/c, wheels tank and engine mount. Even the latest fluorescent spinner from "Radio Active".Note: Since the model was reviewed it has been modified to enable the C of G to be more easily achieved when larger engines are used. It also features fully sheeted ailerons and details on the installation of a servo for each aileron.